To create best cloud kitchen strategy, one needs to understand it correctly.Cloud Kitchen, also called ghost kitchens, satellite kitchens, or dark kitchens is the new way of a food business. Everyone today is wondering what is this Cloud Kitchen? My 8-year-old niece also wants to know, Why is it called Cloud kitchen or Ghost Kitchen? She hopes there is no ghost cooking in that kitchen.
Well, cloud kitchen is an old way of food venture. However, the term is relatively new. It is a food outlet, where the food is prepared and delivered in a packaging container. So cloud kitchen does not require seating arrangements, table service, or serving staff. All a cloud kitchen requires is proper kitchen equipment, storage racks, kitchen staff, and POS systems to start with.
Due to these easy-to-start benefits, in the current pandemic situation, cloud kitchen is the best strategy to operate food business. Like any other food business, cloud kitchen also requires a proper strategy and in depth research to make a successful brand. In this article, we will discuss about basic strategies to run a successful cloud kitchen.
Cloud kitchen, has lots of advantages like less staff required, less capital required, less space required, and many more. However according to survey on RESTAURANT STARTUPS SUCCESS & FAILURE, almost 70% of new cloud kitchens fail to survive in their first year of business. So lets discuss upon what is the best cloud kitchen strategy to make it a success and create a brand.
BEST CLOUD KITCHEN STRATEGY NO.1
The numero uno strategy to create a successful cloud kitchen brand is to decide on a rock-solid concept for your cloud kitchen. Many experts will guide you to first create a proper menu to start your cloud kitchen. Yes, the menu definitely is the key factor, but the strategy to create a brand is to create a concept first.
You need to give a good thought, about the concept, because your cloud kitchen will be a brand in the future time to come, only when your customers will be associated with it. Now, what exactly is a good concept?
A concept is a uniqueness you bring in your cloud kitchen. Food as such is similar in most parts of the world. For example, a Biryani is a bowl of aromatic rice and meat or vegetables combined together. Your chef might be the one, who makes amazing biryani, but in the next lane, there is another chef in another cloud kitchen also making an amazing biryani.
So how do you bring uniqueness? You have to build a concept around it. You can serve it in a unique container, you can serve it in different portion sizes or you can make DIY biryani kits. Of course, the top biryani selling cloud kitchen brands are serving tasty ones, but the strategy that they have used is, they have created a concept around it. Study a few successful brands serving the kind of food, you want to serve and understand their concept around it.
Create a concept on how you can sell the same food product in a new way. Can you serve in a different style? Can you create new varieties in it? Can you make it out of special ingredients? Can it serve in a healthier way? Can it be served to a particular segment of customers? One can think of many such strategies to build a concept around the food and then start designing a proper menu based on the concept.
BEST CLOUD KITCHEN STRATEGY NO.2
As we discussed at the start, cloud kitchen is a delivery-only kitchen, so it is but obvious to make a strategy on how are you packaging your food products. Your food product can be the best in this world but in a cloud kitchen concept, the food needs to travel at least for 15-20 minutes before it reaches the customer, so it will change the way it looks, and sometimes it will also change the way it will taste. Many cloud kitchens serve the best and tasty food but only the brand cloud kitchens will focus on the packaging material used.
Most of you will consider it as an added cost, but only a few know we eat with our eyes first. Tell me, how would you feel if you receive a gift from someone without it been properly packed? Will it still create the same impact? Will you be surprised or excited about the gift in a similar manner? Then how do you expect your customers to be excited about your food product if it is been packed in the same old way?
It is not only the packaging material but how it is arranged in the container, that will create an impact. An Indian Thali looks different in a typical thali plastic container with a lid than Indian thali elements packed individually in containers and then put into a beautiful and attractive meal box.
The packaging strategy is not only useful to ensure that the food has travelled properly and looks and taste the way it should be, but it is also useful to create your brand image in your customer's memory.
You will be surprised to know that many customers order food from a few cloud kitchen, not only for the taste of food but for the way it is packed as per their convenience. When you eat at dining place it has a different comfort as compare to when you are eating at home or office.
Packaging strategy will be based on the concept of your cloud kitchen as well as your menu.So now that you have created a concept, prepared a menu accordingly, now it's time to put a strategy for the packaging of your food product.
BEST CLOUD KITCHEN STRATEGY NO.3
To win any game, you need a good team. This is the same for running a cloud kitchen. To make it successful, you need to recruit the right manpower. Though less manpower is required, it is important to have the right number of people in your organisation. Initially, you might be able to do a number of tasks, but as your business grows you will need proper staff. 
The quality of staff is also very important. You need staff who are able to multitask and a few of them are leaders to manage the operations on daily basis. You need a team which will have a chef, a order taker, a vendor manager, kitchen stewarding, a delivery guy and a marketing person.
The team needs to very clear about the organisational goals to create best cloud kitchen strategy and also needs proper training to enhance their skills and improve in every task required.
Always remember there is never a right person for a right task. You have to give right task to the right person. Conduct interviews with many candidates before you finalise the recruitment. Once you hire someone, it is like you are married to that person. Your are responsible and committed to them as much as they are for your cloud kitchen.

The team needs to have a good combination of people with different work experience, qualifications and attitude towards work. It is rightly said that too many cooks spoil the broth. So choose carefully when you are hiring leaders, otherwise too many leaders in the room can create chaos instead of smooth operations.

Invest your time with your team. Your team is your biggest asset. Always ensure they are highly motivated. A happy team can make wonders and a sad team will always make blunders. Have your daily and weekly meetings with them. Discuss their professional as well as personal challenges. You will be amazed by feedback and suggestions from your team member.

So once the concept is created, the menu is designed, the packaging is clear, you need to start recruiting people required as per your need.
BEST CLOUD KITCHEN STRATEGY NO.4
. Cloud kitchen is a serious business to handle. Like any other business venture, this also requires systematic data collections, reports, feedback, and much important analysis. 
To conduct proper day-to-day analysis, one requires a good Point of Sale system. A good POS will help you to understand the factual representation of your outlet. The analysis will help you to improve the quality of your products, lower any unnecessary costs, and any factor which will grow your business brand further.
These days POS are easily available with excellent features. You need to explore different options and choose according to your cloud kitchen requirements and definitely your budget.

POS will also help you to avoid pilferage. One of the most difficult task is to avoid pilferage in cloud kitchen. Once you have your daily reports in place, you can easily track sales and consumption, thus avoiding any wastage or pilferage.

Many cloud kitchen are started because the owners are passionate about food. Many of them are excellent in cooking and really enjoy it. But as a business owner, you need to also be a good analyst. POS can help you play this role for your cloud kitchen. Detailed summary of day to day business, will help to find loopholes or areas to improvise in your business.

POS systems developed currently have amazing features and services. You can integrate it with your website as well as aggregator platforms. They also have their own marketing and sales features, which will help you to gain more profits. 
Gaining repeat customers is the key to run successful business. POS systems helps you to track your orders and create your customer database. You can get feedback from your customers and understand the real requirements and improvisation in your products. 

Now that you have created a concept, designed a menu, recruited best staff, its time to purchase a good POS system and go to the next best cloud kitchen strategy.

BEST CLOUD KITCHEN STRATEGY NO.5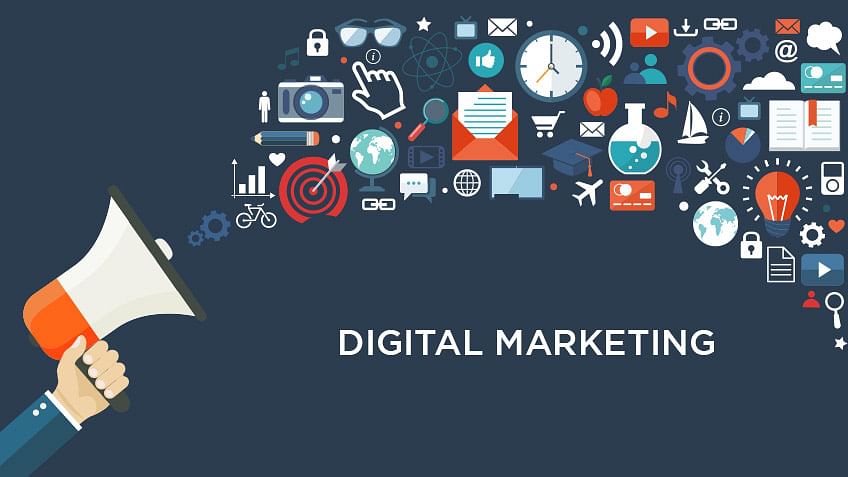 In a dining restaurant, people would visit your food outlet, but for a cloud kitchen, that is not the case. Therefore the best cloud kitchen strategy is to have a proper digital marketing plan.
You need to create a website, social media accounts, new posts, and videos to create awareness among your customers. The world is now constantly on the internet, so to get their attention towards your cloud kitchen, you need a proper digital marketing strategy. 
You might not be aware of or you might not have proper knowledge about digital marketing. Hence you will require help of professional digital marketer. Though that person will start digital marketing process, to sustain for long term in cloud kitchen business, it is very important to learn at least the basics of digital marketing.

The best cloud kitchen strategy for digital marketing is to register with food aggregator companies like Zomato, Swiggy, DotPe and many more. Since you are a part of their system, they help to promote your cloud kitchen on their digital platforms. However, they charge certain commissions on sales of your products through their platforms.

Now, you created a concept, designed an attractive menu, hired great staff, purchased a POS system, and are ready with good digital marketing plan, its time to either launch your new cloud kitchen or improvise your existing one.
I, wish you great success.These best cloud kitchen strategy will definitely help you to become a successful brand. Do write any queries or suggestions in the comment section below. I would appreciate your feedback. 
Stay connected for more updates and information through our website. Till then Stay Healthy!! Stay Safe!!!!